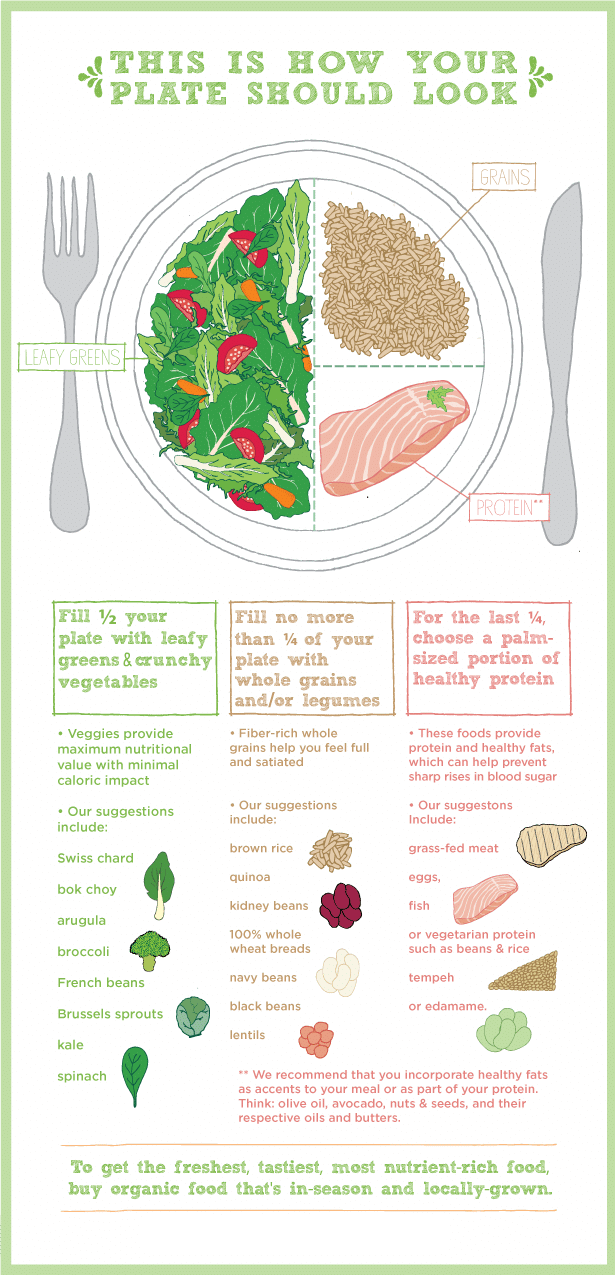 Health Food Pyramid
THIS IS HOW YOUR
PLATE SHOULD LOOK
Fill ½ your plate with leafy greens & crunchy vegetables
Fill no more than ¼ of your plate with whole grains and/or legumes
For the last ¼, choose a palm-sized portion of healthy protein
Veggies provide maximum nutritional value with minimal caloric impact
Fiber-rich whole grains help you feel full and satiated
These foods provide Protein and healthy fats, which can help prevent sharp rises in blood sugar
Our suggestions included:
Our suggestions included:
Our suggestions included:
Swiss chard
Brown rice
Grass-fed meat
Bok choy
Quinoa
Eggs
Arugula
Kidney beans
fish
Broccoli
100% whole wheat breads
Or vegetarian protein such as beans & rice
French beans
Navy beans
Tempeh
Brussels sprouts
Black beans
Or edamame
Kale
Lentils
Spinach
**We recommend that you incorporate healthy fats AS accents to your meal or as part of your protein. Think: Olive oil, avocado, nuts & seeds, and their Respective oils and butters.
---
To get the freshest, tastiest, most nutrient-rich food, buy organic food that's in-season & locally-grown.