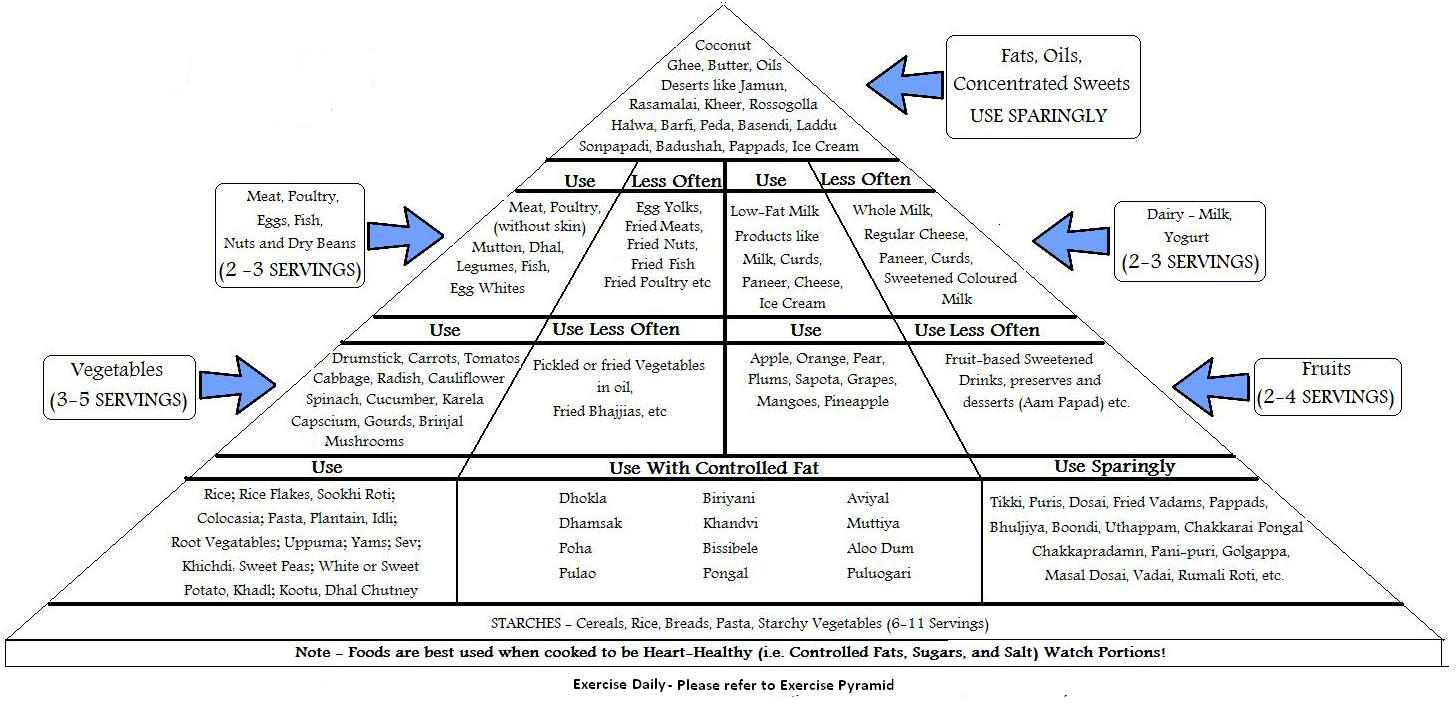 Fats, Oils, Concentraed Sweets USE SPARINGLY
Coconut ghee, Butter, Oils,  Desert like Jamun, Rasmalai, Kheer, Rossogolla, Halwa, Barfi, Peda, Basendi, Laddu Sonpapadi, Badushah, Pappads, Ice Cream
Meat,Poultry,Eggs,Fish, Nuts and Dry Beans
(2-3 SERVINGS)

Use
Meat, Poultry,(without skin) Mutton, Dhal, Legumes,
Fish,Egg Whites
Less Often
Egg Yolks, Fried Meat, Fried Nuts,Fried Nuts,
Fried fish Fried Poultry etc.

Dairy-Milk Yogurt (2-3 SERVINGS)

Use
Low-Fat Milk, Product like Milk,
Curds, Paneer, Cheese, Ice Cream
Less Often
Whole Milk,Regular Cheese,Paneer, Curds,
Sweetened Coloured milk

Vegetables (3-5 servings)
Use
Drumstick, Carrots, Tomatos, Cabbage, Radish, Cauliflower Spinach, Cucumber, Karela Capsicum,Grourds, Brinjial Mushrooms
Use Less Often
Pickled or fried Vegetables in oil, Fried Bhajjas, etc
Fruits(2-4 SERVINGS)
Use
Apple, Orange, Pear, Plums, Sapota, Grapes,
Mangoes, Pineapple
Use Less Often
Fruit-based Sweetened Drinks
preserves and desserts(Aam Papad) etc
Use
Rice; Rice Flakes, Sookhi Roti; Colocasia; Pasta,
Pasta, Plantain, Idli; Root Vegetables; Uppuma;
Yams; Sev; Khichdi, Sweet Peas; White or Sweet
Potato, Khadi; Kootu, Dhal Chutney
Use With Controlled Fat
Dhokla            Biriyani    Aviyal
Dhamsak       Khandvi     Muttiya
Poha                Bissibele   Aloo Dum
Pulao               Pongal      Puluogari
Use Sparingly
Tikki, Puris, Dosai, Fried Vadams, Pappads,
Bhuljiya, Boondi, Uthappam, Chakkarai Pongal
Chakkapradamn, Pani-puri, Golgappa, Masal Dosai,
Vadai, Rumali Roti, etc.
STARCHES – Cereals, Rice, Breads, Pasta, Strachy Vegetables (6-11 Servings)
Note – foods are best used when cooked to be heart – Healthy (i.e. Controlled Fats, Sugars, and Salt) Watch Portions!
Exercise Daily – Please refer to Exercise pyramid.